Lydia Broadnax

circa 1742 — circa 1825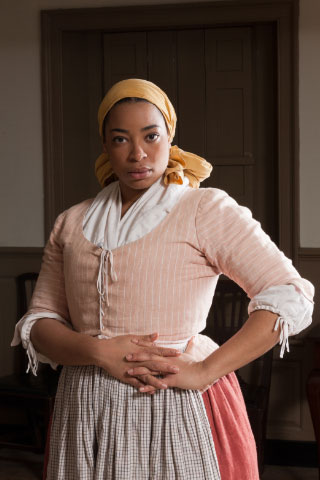 In 1787, Lydia, an enslaved woman owned by George Wythe, was freed in Williamsburg, Virginia (North America). Since 1723, Virginia laws had prohibited slave owners from freeing their slaves without authorization from the Governor's Council. Passage of a new manumission law during the American Revolution allowed Wythe to legally manumit Lydia from permanent bondage. Wythe, the first Virginian to sign the Declaration of Independence, may have believed that the practice of slavery was inconsistent with the revolution's ideals of "life, liberty, and the pursuit of happiness."
Before Lydia was freed, she and several other men, women and children were enslaved in the Wythe household in Williamsburg. She first appears in the official records in 1783, listed as a member of the Wythe household on the Williamsburg Personal Property Tax List. During her years in Williamsburg, records refer to her only as "Lydia," with no surname. Perhaps she appended her surname after Wythe freed her.
Richmond's free black community and the opportunity to earn a living may have attracted Lydia to move to the new capital city. Lydia's new life as a free black required her to pay taxes, but she could not vote nor could she testify in court against a white person. A resourceful woman, Lydia purchased a house and property that she may have used as a boarding house. When George Wythe moved to Richmond, Lydia earned income cooking for the Wythe household.
Lydia was present as Mr. Wythe's cook in 1806 when his grandnephew George Wythe Sweeney poisoned him and several other people. Though she might have been an eyewitness to the poisoning of George Wythe, Lydia was forbidden to testify against George Wythe Sweeney because he was white. Sweeney was released for lack of evidence. Broadnax believed that the poisoning might have diminished her eyesight and on April 9, 1807, Lydia wrote a letter to President Thomas Jefferson in her own hand asking for money to purchase eyeglasses.
Information about Lydia Broadnax's personal and daily life is unknown. Even though she could read and write, no memoir or diary exists. Her last will and testament, written September 25, 1820, was probated on February 26, 1827. There is no evidence that she was married or that she ever had children. Her will indicates that she owned a house and lot in Richmond and that she wanted to be buried on her property. Lydia signed the will with a mark probably because of failing eyesight.
Lydia Broadnax was part of a vibrant free black community in Richmond, Virginia. Throughout the United States, free blacks like Lydia built the foundation of African American institutions after the American Revolution. They operated businesses, established churches, mutual aid societies, and other organizations to support their communities' efforts to fight for freedom and equality in the United States.
---
Related Topics: