Gowan Pamphlet

circa 1748 — 1807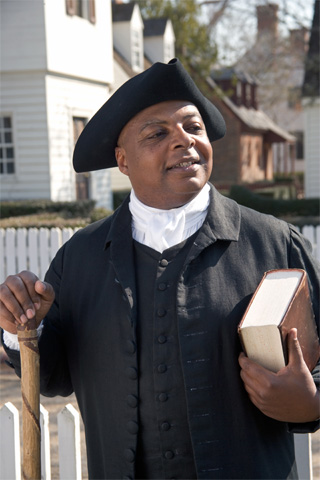 Hundreds of enslaved people in Williamsburg attended and were baptized by the official church of Virginia, the Church of England. The evangelical messages of dissenting religions such as the Baptists, Methodists, and Presbyterians attracted even more free blacks and enslaved people. Occasionally, some Virginia clergymen and slave owners encouraged enslaved people to read the Bible and preach the gospel to their own communities.
Gowan Pamphlet answered a call that set him on a path few would have imagined possible for an enslaved person in the colonial Chesapeake region. Enmeshed in the slave society of eighteenth-century Virginia, he was hemmed in by law and custom, by his owners' demands, and by fear and prejudice harbored by slaveholding and nonslaveholding Virginians alike.
When Gowan began his preaching mission in the 1770s, he was the property of Jane Vobe, owner of the King's Arms Tavern in Williamsburg. Gowan and others learned to read the Bible and took part in formal Church of England services at Bruton Parish Church. During the American Revolution, Pamphlet began his preaching mission, inspired in part by the preaching of an itinerant black preacher named Moses. Local authorities feared the message of equality before God being preached by evangelicals, and they forced Moses out of town. Gowan Pamphlet stepped in when Moses left.
Oral tradition suggests that Pamphlet, like his predecessor Moses, carried on his early ministry in arbors fashioned from saplings and underbrush on Green Spring Plantation several miles from Williamsburg, far from the sight of slave owners and patrollers. His popularity among the enslaved population likely prompted assaults on his reputation and inspired his calling, too. A regional Baptist organization temporarily excluded Pamphlet from the Baptist fold having decided that "no person of color should be allowed to preach," but Pamphlet and his followers continued to meet and grew in number. By 1781, the congregation counted two hundred members and may have begun gathering for worship on the outskirts of Williamsburg.
Pamphlet's owner, Jane Vobe, moved him and her business to the outskirts of Virginia's capital, Richmond in 1786, but Pamphlet returned to Williamsburg in 1791 with a new owner, David Miller, executor of Vobe's estate. With his congregation numbering around five hundred, the visionary pastor judged it was time to apply for membership in the white-run Dover Baptist Association—a regional organization descended from the very group that earlier tried to silence him.
Pamphlet—still a slave, and probably with a pass from Miller in his pocket—traveled north across the York River to Mathews County to attend the annual meeting of the Dover Association in October 1791. Near the end of the two-year inspection period for candidate churches, events near Pamphlet's home base nearly derailed the application and brought down the law on Pamphlet himself. In August 1793, William Nelson Jr. claimed that "the black preacher Gawin" inadvertently dropped a letter in the street in Yorktown on his way to Norfolk. The letter's shocking contents persuaded Nelson that Pamphlet was a messenger for a network of armed slaves from Richmond to Charleston, South Carolina. Pamphlet hid himself for several weeks until the trouble subsided.
In September 1793, within a month of the talk of conspiracy involving his slave, David Miller drew up a deed that would set Pamphlet free. In October, Pamphlet attended the annual meeting in Middlesex County to hear the Dover Association announce that the "Baptist church of black people at Williamsburg" was received into membership. In December 1793, York County officials ordered Miller's deed copied into the public record.
Until his death in 1807, Pamphlet continued—now a free man—as pastor of the only Baptist church in Williamsburg, annually traveling miles from his home to represent his African American congregation at meetings of the Dover Baptist Association. Late in Pamphlet's ministry, Jesse Coles invited the congregation of black Baptists to hold services in Williamsburg proper in a wooden carriage house on Nassau Street.
The African Church, as it was known in the late 1820s, was tested during the antebellum period. Closed for a year after the 1831 Nat Turner rebellion in Southampton County, badly damaged by a tornado in 1834, and forced to accept "reorganization" in 1843 with its own black preachers subordinate to white ministers, the congregation nevertheless took possession of a new brick church dedicated in 1856 that stood on Nassau Street for more than 100 years. Returned to black leadership after the Civil War, the historic congregation took the name First Baptist Church. Newly freed citizens of the United States in the Williamsburg area turned to this distinguished African American church for spiritual, civic, and educational support, and during Reconstruction, the Rev. John M. Dawson won election to the Virginia General Assembly and served in the Williamsburg city government. First Baptist Church moved to its current location on Scotland Street in 1957. The congregation honors the memory of its founder Gowan Pamphlet to this day.
---
Related Topics: