Mahommah Gardo Baquaqua

circa 1824 — after 1857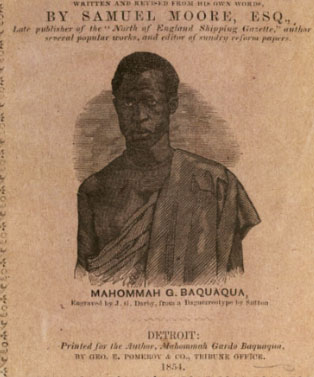 The life of Mahommah Gardo Baquaqua as recorded in his narrative The Biography of Mahommah Gardo Baquaqua provides insight into two important aspects of slavery in the Atlantic world. His biography reveals a greater understanding of the internal transatlantic slave trade as well as the intricate complexities and shifting status of slaves within the Atlantic world during a complicated period of the slave trade.
Mahommah Gardo Baquaqua was born around 1824 in Djougou, Benin, to a prominent Muslim family. In his teen years, Baquaqua became a favored bodyguard to the chief of a neighboring town that was subordinate to Djougou. Because of his position, Baquaqua wrote, "I was…singled out as a fit object of vengeance by an envious class of my countrymen, decoyed away and sold into slavery." As a slave, Baquaqua was sold southward from his home in Djougou to Dahomey, where he was sold to Portuguese slave dealers.
Baquaqua arrived in Brazil around 1845 and was initially enslaved by a baker in Recife. In 1847, he came under the ownership of Clemente Jose da Costa who was the captain and co-owner of the ship Lembranfa. In April 1847, the Lembranfa sailed to trade goods in New York. Learning before the voyage that New York was a "land of freedom," Baquaquqa escaped the Lembranfa and, with the help of local abolitionists, appealed for his freedom through the court. When the appeal was denied, Baquaqua was sent to prison to await his re-enslavement by Jose da Costa. Baquaqua escaped from the cell, however, and with "the assistance of…friends," absconded to Boston.
From Boston, Baquaqua was given passage to Haiti. It was here, in 1849, that he became closely acquainted with Rev. William L. Judd, a Baptist Missionary, and converted to Christianity. In late 1849, Baquaqua sailed with Judd's wife to New York where he enrolled in New York Central College in McGrawville, which had been established in 1848 by the American Baptist Free Mission Society. With his education, Baquaqua hoped to return to Africa as a missionary.
Though Baquaqua disappears from the historical record after 1857, the written narrative of his experience as an enslaved and free man in the Atlantic world survives. The legacy of this narrative lends an important voice to the conditions of slavery and the slave trade in the Atlantic world during the mid-nineteenth century.
---
Related Topics: