Museum of London Docklands

London, England, United Kingdom

The Museum of London Docklands opened in 2003 and is part of the Museum of London. It is located at Canary Wharf, in London. It tells the story of the port of London and the related dockland communities, from around 1600 to the present day.

The Museum of London Docklands is housed in an original warehouse at the West India Docks, which were built in 1802 at the initiative of London's plantation owners and sugar traders. It is the location of the acclaimed London, Sugar, and Slavery Gallery, the only permanent gallery to deal with London's involvement in both slavery and the slave trade. The gallery outlines the City's early trade with Africa and the activities of its slave traders; life on the plantations and the wealth derived from the British colonies in the Caribbean; resistance to slavery and the campaign for abolition of both the slave trade and slavery; the African presence in London after abolition, and the legacy of London's involvement in slavery. Among the many items on display are glass beads produced in London for use in the slave trade, a draft of the abolition bill, a banner produced for the abolition campaign, manuscripts, and prints.

The museum's Library and Archive contains papers relating to the operations of the West India Dock company, as well as several important collections relating to slave plantations on St. Kitts, including the Golden Rock plantation owned by Thomas and John Mills, and the plantations owned by the Earl of Romney. These archives include plantation business records and extensive correspondence between London and the Caribbean.
---
Related Topics: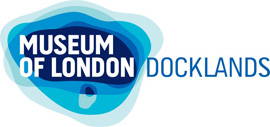 ---
Related Pages:
---
More from Museum of London Docklands: